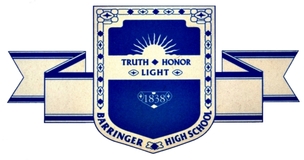 WELCOME

The Barringer High School Alumni Association, started by a group of teachers in the mid 1980s, has continued to grow over the years; our roster now includes more than 2500 Barringer alumni. Alumni truly define our high school and each alumnus is important to our association. We invite you to maintain your relationship with Barringer through our association as we remember the past and look forward to the future.

MISSION
Our mission is to promote positive relations between the high school and its alumni; to keep alive the memories so meaningful to us; to promote the history of our school; to honor those graduates who have made important contributions to our community; and, to support the current student body through our scholarship program. Pride in our common heritage and a loyalty which stands the test of time is characteristic of Barringer Alumni. We are a group of people who shared something significant together – our lives were shaped by the precious years we spent at Barringer.

THE JOURNAL RESTORATION PROJECT
Our association is on a mission - the restoration of one of our most prized collections - 29 journals which contain handwritten accounts and artwork by Newark High students that date back to the mid 1800s, more specifically the Civil War era. It is our desire to restore these journals and have them placed in a museum or other public place for all to see. So, in 2018, as we celebrate Bringers 180 year anniversary and the associations's 30 year anniversary, our focus will be centered on this restoration.
Our progress so far:
We are the recipients of a $2000 grant from Essex County Department of Parks which is a matching grant.
It has been determined that the restoration cost of each journal will be $400-$500. A few completed journals will be displayed at the All Classes Reunion in November, 2018.
A first donation of $150 was made in memory of Ralph Salzano, former Athletic Director at Barringer. Many more alumni members are donating generously.
Want to be included in this project?
Don't miss the chance to be part of this mission by making a much appreciated donation. No donation is too small.
Donations may be made payable to:
Barringer High School Alumni Association
​Send the donations to:
PO Box 51
Essex Fells, NJ 07021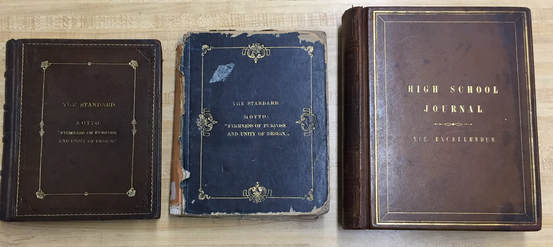 Two of the journals have already been restored. The book in the middle is reflective of the condition of most of the books in the Heritage Collection (some are worse-without covers) The books on each end have been restored at a cost of $450-$500 a piece
CURRENT ALUMNI OFFICERS
President

First Vice President

Second Vice President

Treasurer

Asst. Treasurer

​Budget

Corresponding Secretary

Recording Secretary

Event Coordinator

Membership and Research

Managing Editor/Newsletter

Photo/Technical Editor

Publicity/Sunshine

Database

RoseAnn Gasparinetti

Marie D'Amico

Felicia Biase

Pat Pompeo

Carol Pompeo

Terry Castellano

Rose DelPresto

Felicia Biase

Paula Luongo

Steve Niforatos

Marie D'Amico

Sal DiGerlando

Marge Aromando

Linda Reilly
| | |
| --- | --- |
| | CLICK HERE AND JUMP TO OUR MEMBERSHIP PAGE AND TO RECEIVE OUR NEWSLETTER.......JOIN THE ROSTER NOW! |